Merry Christmas and Happy New Year
On the behalf of SARA Organization, we would like to thank God, thank all the donors, because of your generosities, SARA Organization was able to bring your love to our home country. Your humaneness encouraged us to work hard for your kindness. I am moved every time I received your charity checks showing your humanness thru a lot of sacrifices. I can't say thank you enough, but pray at 3 o'clock mass daily for God paying you back for your kindness and thinking of those hardship believer in the hometown.
May God bring peace to all this Christmas and happiness in the New Year.
Kim Dung Vũ, President
RICE DISTRIBUTING FOR THE HANDICAP CHILDREN REPORT- AUG 2012
SARA Organization sincerely thank all the donors for your love and support for the food and clothes for the handicaps. Each received 10 kg rice, about $6 worth last August. The earnings from selling medicinal herbs was included in the fund, providing painkillers for the them. Below is the detail report:
Sóc Trăng, Cần Thơ:  $300 for 60 rice portions, Nuns from Dòng Mến Thánh Giá Cần Thơ, including a leprosy barrack and some handicap children.  Planning only 50 portions, but the nuns were able to buy 60 portions due to the lower prices.
Huế: $3,000 for 500 rice portions and  $500 for medicines for the medical exam office. Nuns from Dòng Mến Thánh Giá Huế took care of the distributing to the handicap families in 44 villages.
Vinh: $3,600 for 600 rice portions, distributing by Father Nguyễn Văn Vinh to all the families in 40 villages.
Hướng Phương Orphanage, Quảng Bình: $ 400, handed by Nun Nguyễn Thị Hoa.
Thanh Hóa: $3,000 for 585 rice portions, and $500 for medicines for the general medical exam office. The nuns from Dòng Mến Thánh Giá Thanh Hóa given to all the families in 24 villages and xã.(What makes up of villages) (province?)? Planning only 500 portions, but the nuns were able to buy 585 portions due to the lower prices. Thank you letter from Nun Trịnh Thị Thắm below.
Bắc Ninh, Bắc Giang: $1,200 for 200 rice portions, distributing by the Nuns from Hiệp Nhất Team to all the families in 40 villages.
SARA Đạo Ngạn Exam Office: $2,000 for medicines , handed by Hiệp Nhất Team.  
 "What a hardship we're suffering"
There are little simple happiness in life, which make us smile every time we think about them, giving us some satisfaction and make us proud, like a compliment: "You are pretty, or charming etc."  There are also memories which stay with us for a long time, subconsciously, making us feel good because we did something to help the less fortunate back home.
I still remember when I first came back and visited Phú Bình leprosy barrack in Giáo Phận Bắc Ninh.  When our car stopped in front of the meeting room, everybody came after the bell alert, most of them were missing arms or legs, limping their steps.  There were also the blinds groping their ways with their canes making noises on the ground.  No smiles were found on their somber faces, it was such a gloomy surrounding.  Although I tried to be cheerful, they answered with nodding or shaking their heads to my concerned questions, and only said thank you very softly after receiving their gifts.  After giving out gifts, I was lead by the Nuns to their tents to look at their living activities. 
First, I saw a number of houses, walls and doors made by nipa palm leaves, some doors were made with dry banana leaves.  The living spaces were only 9 or 12 square feet for 2 people without basic necessities, and they had to suffer nights and days from leprosy virus without pain killers being available to them. (This was recorded in the DVD 2004 SARA Non-profit Organization Activities, if you already watched it, you would remember this scene in there.  If you don't have the DVD, we can send one to you.)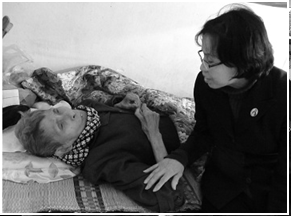 Next, the Nuns lead me to the areas of the patients who no longer can do any labor works, only getting treatments.  When I got to the first room, I had the urge to vomit because of the foul smell of blood and pus, and whatever else I couldn't really tell.  When I had to run outside to keep it down, didn't want them to be ashamed and pity themselves more than they already did, I saw a woman, around 40 years-old, her hair was a mess, her face was sweaty and suffering labor breathing.  At first glance, I thought she was a leprechaun, but in fact her legs were missing to the knees, and she had some used tires pieces tied to her stomach by the dry banana strings.  I asked her where was she back from, she pointed to her back.  I looked that way, and saw a leaf hut about 3 feet wide, seated on 4 small wooden sticks, and there were a hole with a few sticks across.  That was their toilet.  Looking at her, I felt worry, without her 2 feet to balance herself on those sticks, what if she fell down there?  As if she could read my mind, she said, "it's very difficult each time, especially when slippery due to raining season."  Having heard that, I immediately thought of those others in the treatment rooms, feeling great compassions toward them.  She and I visited the very sick patients in the small and heavily smelly room.  Even though, I tried to put up with it and came closer to an very old woman under a blanket, who had very deep sunken eyes, redden w tears in them.  When I said hi to her, her tears fell down, her voice trembled:  "Mother, we've suffered so much here!"  I was lost of words, because she couldn't see that I was still young enough.  Hearing her soft cry, I couldn't hold back my tears, and reached out to hold her giving her some warmth, hoping to ease some of her pain.  Her cry "Mother" sounded like a pleading, like a child wanting her mother.  She must have a lot of pain both physically and emotionally, her heart must be bleeding really bad.  She couldn't do anything beside squirming and enduring without any pain killers to ease her worst pain, but to accept her ill fate disease. She couldn't help crying out whenever she felt some compassion, trying to hold on to some thin hopes….. We hope their cries reach you donors somehow.  As of for me, regardless how soft, or how long ago their cries were, they were already imprinted in my subconscious, and keep echoing in my heart.  That's the inspiration that made me give myself, and God's calling lead me to this narrow road.

Ladies and gentlemen, to these days, those leprosy patients got a better living conditions in brick houses.  They suffered less thanks to your humanness.  But those fingerless arms, those toeless feet, the eye sights were already gone forever.  Without these limps, they couldn't even do their basic personal hygiene or feed themselves.
My dear donors,
The Year of The Snake Lunar New Year is coming, the leprosy patients and the handicapped are looking forward to SARA Non-profit Organization visit.  We are asking for your kindness so we can provide a little gift, hoping to bring a smile to 3,000 leprosy patients and 2,000 handicapped children's faces, each gift would be worth about 12 dollars.
SARA Non-profit Organization wishes for your compassions, your kindness in helping your less fortunate back home.  It doesn't matter how small or big your donations are, your gifts during the New Year would bring warmth to their hearts and they'd feel appreciation toward you.
Any donations please send to:
SARA Non-Profit Organization
PO Box 18185
Portland, OR 97218
Or on our website (SARA-Hope.org)
Thank you greatly for your humanness.           
Kim Dung Vũ, President
NOTIFICATION
SARA Non-profit Organization had mass praying for the soul:
Tôma Nguyễn Phú Ðức who passed away on  20/10/2012
All our members and donors, please pray together for
Tôma soul would see our Christ in Heaven.
Hoi Dong Men Thanh Gia Thanh Hoa
10/262 Ba Trieu-Truong Thi
Thanh pho Thanh Hoa
DT: 037 3855 610-Email:
hdmtgth@gmail.com
To SARA and Donors,
I, Maria Tham Thi Trinh, a nun from Hoi Dong Men Thanh Gia Thanh Hoa, on behalf of 585 handicapped sisters and brothers in Thanh Hoa, wishing you health and peace in Christ.
Ladies and Gentlemen, regardless of bad time in world economy, in the past years, especially in 2012, you donated $3,600 USD (74,888,000 VND) to our Thanh Hoa Handicapped Family.  With that money, we bought medicines and were able to contribute 12 kg rice to each member.  Because of your kindness, these less fortunate received happiness, compassions and meaningful gifts.  May God pay you back for your doing, and peace will be with you always.  We hope you will continue lend a helping hand to the handicapped who are always waiting for your act of humanness.  Below is the list of the giao xu which received gifts from SARA last year.
| | | | |
| --- | --- | --- | --- |
| Giao xu | Location | Number of people | Responsible party |
| 1. Ba Lang | Hai Thanh-Tinh Gia | 60 | Nun Maria Ngat Thi Le  |
| 2. Bach Cau | Nga Bach-Nga Son | 37 | Nun Teresa Khang Thi Vu |
| 3. Dien Ho | Nga Dien-Nga Son | 12 | Nun Anna Mung Thi Tran |
| 4. Dai Tien | Hoang Dai-Hoang Hoa  | 4 | Nun Maria Tham Thi Trinh |
| 5. Dong Quan | Ha Hai-Ha Trung | 20 | Nun Maria Tham Thi Trinh |
| 6. Hai Lap | Quang Tien-Sam Son | 13 | Nun Elizabeth Mau Thi Nguyen |
| 7. Hoai Yen | Hai Chau-Tinh Gia | 27 | Nun Maria Tham Thi Trinh |
| 8. Ke Vang | Yen Thinh-Yen Dinh | 10 | Nun Teresa Diu Thi Nguyen |
| 9. Ke Ben | Vinh Minh-Vinh Loc  | 33 | Nun Maria Mai Thi Trinh |
| 10. Kien An | Tuong Son-Nong Cong  | 33 | Nun Maria Bich Thi Hoang |
| 11. Lien Nghia | Nga Thai-Nga Son | 42 | Nun Anna Mung Thi Tran |
| 12. My Dien | Van Loc-Hau Loc | 20 | Father Phero Giang Huu Nguyen |
| 13. Nhan Lo | Vinh Thanh-Vinh Loc  | 18 | Nun Anna Theu Thi Tran |
| 14. Ngoc Lam  | Truong Giang-Nong Cong | 50 | Father Joseph Nien Van Tran |
| 15. Phuc Lang | Quang Truong-Quang Xuong  | 35 | Nun Teresa Thoa Thi Tran |
| 16. Phuc Dia | Quang Phu-Tho Xuan  | 60 | Nun Maria Minh Thi Do |
| 17. Quan Xa | Quy Loc-Yen Dinh | 32 | Nun Teresa Chien Thi Nguyen |
| 18. Sam Son | Trung Son-Sam Son | 12 | Nun Elizabeth Mau Thi Nguyen |
| 19. Tan Dao | Phu Nhuan-Nhu Xuan | 11 | Nun Tham Thi Trinh |
| 20. Tan Hai | Nga Phu-Nga Son | 20 | Nun Anna Mung Thi Tran |
| 21. Thuong Chieu | Hai Linh-Tinh Gia     | 14 | Nun Maria Huong Thi Nguyen |
| 22. Tien Thon | Ha Dong-Ha Trung   | 13 | Nun Anna Cuc Thi Nguyen |
| 23. Phuoc Nam | Nga Dien-Nga Son | 10 | Nun Anna Mung Thi Tran |
Ladies and Gentlemen, every time we stopped by and contribute the gifts to the handicapped, we noticed that everyone was very happy.  A lot of people couldn't help but cry, it was because beside the monetary gifts, they also received your concerns, plus your thoughts of still remembering them, the less fortunate.  There were the children who could not speak, but still tried to make some sounds or some gestures expressing their appreciations.  When we handed out the rice portions and $100 USD to Mr.  Quy Ton Nguyen, the father of 3 handicapped children, he couldn't help sobbing when receiving the gifts for their sakes.  He is a Dad like every body else, but it seems like he would never have a chance to hear them calling him the sacred word "Daddy."  Everyone who came for a visit couldn't hold their tears when witnessing this.
Once again, I thank you all the Donors, and all of SARA members for all your time, your efforts and sacrifices in sharing with us the less fortunate in Thanh Hoa.  Wishing you all the happiness and success in life.
Thanh Hoa  October 15th, 2012
Sincerely,
Nun Maria Tham Thi Trinh
Representative for Ban Bac Ai Hoi Dong