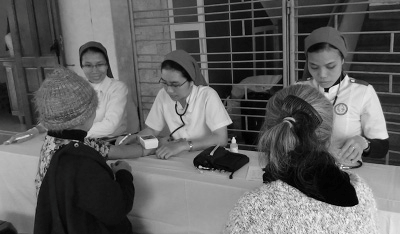 SARA visits become more effective every year. This yearss visit was filled with numerous challenges, unforgettable joys, and heart-lifting surprises. Our greatest joys and surprises came from all the many helpers inside and outside of SARA who joined together to deliver free medical care to remote home villages.  This year, we were able to examine, treat, and deliver medicines to nearly twice as many people as last year.  This year: 1312 people were helped directly, including 394 who received in-depth Oriental medicine treatments.  This year we had the cooperation of ten doctor-nuns, doctors, and pharmacists from the United Holy Mother Congregation.  Two accupunturists came out of retirement to help SARA's people.  And another group, consisting of one doctor-nun, a pharmacist, and three sisters from Holy Rosary religious Order in Xuan Troung, Nam Dinh joined us this year and have offered their their loving help in the future.  Also, Father Xavier of the Catholic Church and his younger brother in France came to visit the ethnic minority people in Khe Sanh.  Additionally, Brother Hong Phuc, Ms. Hoang Thi Hieu of Maryland and Ms. Nguyen Kim of Oregon accompanied Kim over the three weeks.  In all, the SARA group visited more than forty home villages.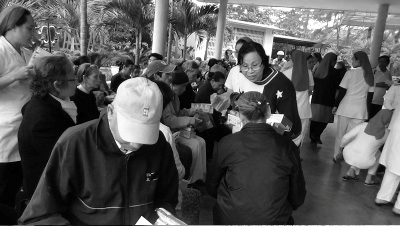 Kim landed in Ha Noi at 10:30 p.m. on January 25. She then made her way to SARA's Dao Ngan clinic, arriving at about 1:00 a.m. There she rested briefly before beginning the mission at 5:00 a.m. on the 26th. It all began on this auspicious fourth day of the Lunar New Year (Tet) with a prayer for protection and good health. Such happiness when Kim arrived at the Dong Lenh leprosarium to deliver gifts and facilitate the free medical clinic! At the end of the day, with rice cakes for all, Tet was celbrated in its fourth day as if it were the
Dong Lenh leprosarium harbors many sad stories. SARA has turned many of those sad stories into joyful ones. For example: an elderly woman, an ethnic minority, about age 102 yet with the mind of a much younger person, was asked by the sisters, "How do you obtain your cooking water?" That led to discovery that some elderly folks were cutting back on their food and water intake because toilet was so difficlult to get to (one had to climb a steep hill to get there). Once that circumstance became known, SARA set about getting two more-modern and accessible toilets constructed. Now the elderly do not have arduos travel just to attend to their toilet. These older ones, who for literally a hundred years, had to endure hardships just to go to toilet, now have the comfort of readily-accessible toilet for the rest of their days. They expressed sincere gratefulness to SARA contributers.
SARA also brought doctors to examine and treat the elderly here. Kim was told: "Though we may die of illness, we do not go to medical clinics for examinations and treatments because we are despised as lepers. Now you (SARA) lead doctors to treat us and deliver medicines. We cannot find words to thank you!"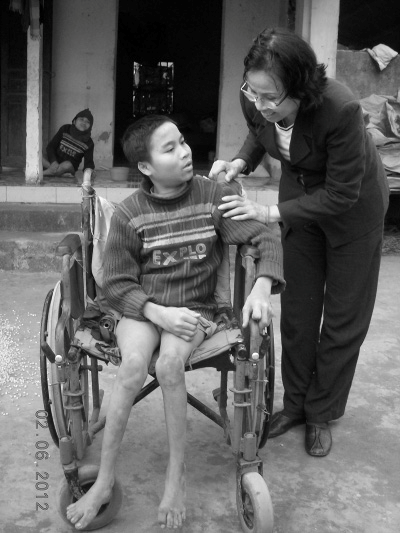 SARA carried out its purpose to aid the handicapped, sick, poor, the lonely, and the elderly. SARA delivered gifts to those who had rarely known gifts. SARA delivered medicine to those without but needing medicine. But because of limited budget, SARA could only help a home village here of 30 to 40 people and offer medical exams and treatments in one morning and one afternoon. As patients waited for ther examinations, Kim shared stories about SARA and you, the contributers and your generosity. Their gratitude for donors' generosity is immense! Some of the elderly talked about how their children were strapped with looking after their families, and could not make ends meet, let alone take their elderly parents to town for medical care. One elderly woman said, "If I lie to wait for my children, I am dead." Another elder with tears welling up, " I am old and sick and looked after by no one. My children work to make ameager living and keep their own children. Sometimes they cannot send money for several months. No one in the house has enough rice to eat, let alone money for medicine." Kim was very sympathetic and understood such reduced circumstances. Yet when SARA is on site, they can deliver medicine averaging from $2-2.50 USD for each patient along with free medical examinations. The doctors and nurse volunteered their time freely. Overall, a lot of suffering is reduced with minimal investment. The SARA model of arranging volunteer doctor and nurse treatment along with a few dollars spent for medicine yields enormous payoff in decreased misery.
Following the medical care at Dong Lenh leprosarium, the SARA mission traveled to Nhung Village for more free medical care to 105 patients, acupuncture for 35 patients, and gifts for 20 disabled children. Then it was onward to Dao Ngan (Jan. 27-30), Bac Giang, (Feb.1-3), then to Ninh Binh, Nam Dinh, and Nha Long—all with SARA-sponsored free medical clinics. At Nha long, Sister May blessed us with a special visit to the handicapped there. So, from Feb.3 to Feb.15 the SARA mission was filled with multiple visits to leprosariums, residences for the handicapped, and orphanages.
The more places visited, the more the compassion of SARA mounted. So many tears of compassion, joy, and love! Among the families afflicted with leprosy, it is not unusual to witness three to five family members with major disabilities. Additionally, mental illness often accompanies the long-term misery. Kim's compassion through the SARA organization is without boundaries in the past, now, and in the future.
On Feb.7, 2012, the SARA mission brought gifts to patients at Quynh Lap leprosarium. Here, as many as 80% of the elderly were severely handicapped. Each patient received a gift and VND 150,000 ($7 USD). At this facility and all along the way, Kim encountered so many tender moments--like the time she stopped to help an older gentleman at Quynh Lap to fasten the buttons on his clothing. He had been standing and struggling alone in the cold for a long time, unable to buckle his belt or button up his two coats on this very cold day. Kim felt his flesh cold as ice as she helped him. Together they cried and wiped each other's tears. Kim can still not reflect on that moment without tears. Kim's trail of compassion again peaked at Dieu Vien pagoda in Hue. There Kim visited with 18 elderly ladies, each older than 80 years, some able to move, some not. After receiving some bits of gifts, their toothless smiling thank yous were too much! Later, the ladies implored some visiting Buddhist nuns to make offerings and prayers for the safety and health of SARA supporters.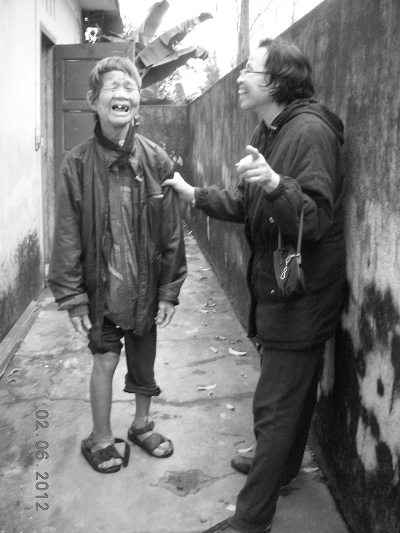 From Hue, it was on to Binh Thuan in Phan Thiet to an orphanage for disabled children. These children are starved for affection and compassion. When someone comes to visit, they run to be embraced and held. Tears only subsided after Kim was able to hold each child for a long time. Each child jockeyed for a chance to be next to Kim when they posed for photographs. This caused Ms. Kim to fall down several times! One child sang a song, "Please don't kill me, Mother." Alas! On seeing Kim's tears, some children did not understand, saying, "Crying already, crying already!" In their lonely young lives, without comfort and compassion from their own families, they do not yet understand the depths of their own suffering.
On the last day of the trip, the SARA mission visited deaf and mute orphans in Rach Gia. Again, everyone at the orphanage was deeply moved by this vist from the SARA organization. These were among the poorest of the poor who were visited so far. Kim took the liberty of SARA donors' intentions to give a gift of about five dollars to each of the 50 orphans here. Yet again it was a very emotional time.
On such visits, Kim always wonders about what more she can do to relieve all of this suffering. She is thankful for supporters who traveled with her and assisted in this charitable work. We ask you to please continue to send love, and to share food and clothing as we all accumulate blessings. Together we can overcome these sicknesses. It is our opportunity, for all of us, to be blessed because when we last shut our eyes to pass away, we take nothing with us other than our blessings and sins. Do we?
Because of higher costs for everything, including transportation, and because there have been so many more people needing our help than we are able to provide for, please help us to overcome our budget shortfall for this trip of $1,358. Please help us with your compassionate generosity to make up this deficit and begin new funding for the next SARA mission. Thank you.